Small Scale Oxygen Production Machine Psa Oxygen O2 Plant Medical Oxygen Generator Hospital Using Oxygen Concentrator
Oxygen Generator for High Temperature and High Humidity Region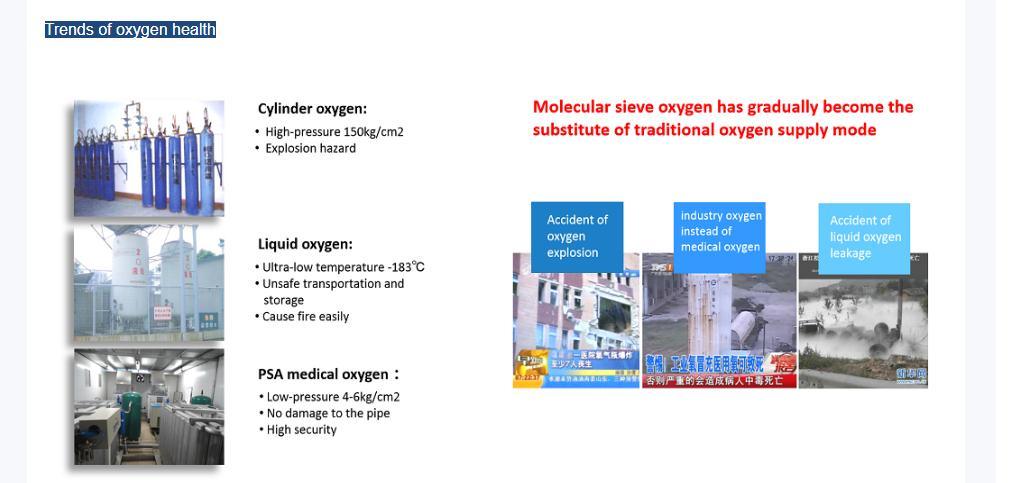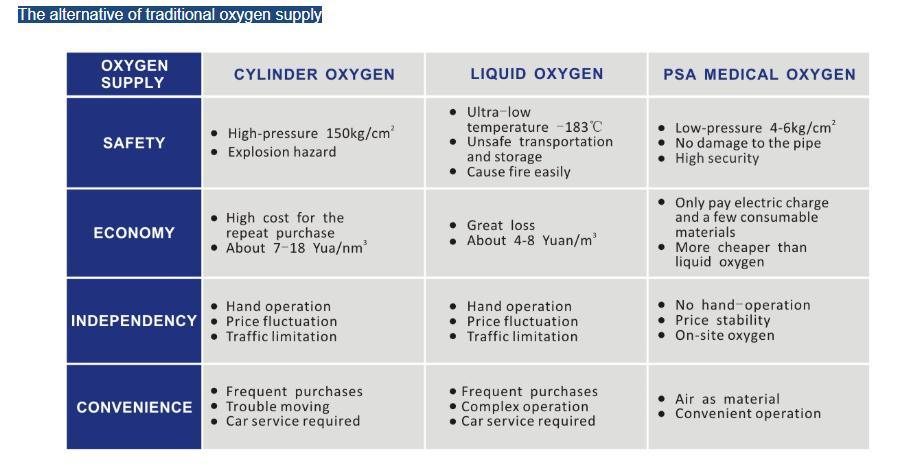 With air as material and molecular sieve as absorbent, TECHRAY's modular oxygen generator system is to adopt advanced PSA(Pressure Swing Adsorption) air separation technique to form a circulation process of absorption during compression and desorption during decompression so as to produce oxygen by separating oxygen and nitrogen in the air by using the physical property that under normal temperature and low pressure, so that the purity of oxygen is exceeded 93%+-3%v/v.
PSA technology is pure physical absorption, the content of harmful components (such as hydrocarbons and solid materials) are lower than the national standard.
New standard (YY 1468-2016 oxygen generator supply systems for use with medical gas pipeline systems)
The standard stated the enriched air (93% oxygen) of oxygen generator(e.g. molecular sieve oxygen system) can be substitution for medical oxygen, which can be used for medical gas piping system.




The New Fourth Generation of Intelligent Medical Oxygen Plant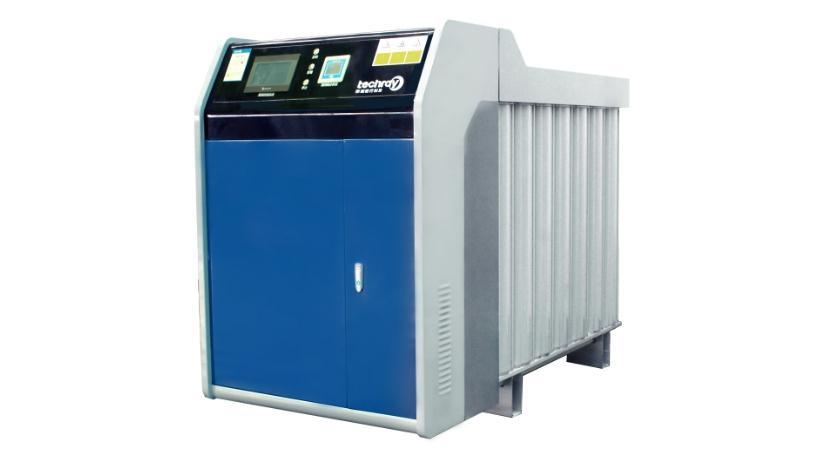 | | |
| --- | --- |
| Item | Conponents |
| 1 | Intelligent Oxygen generator |
| 2 | Screw-type Air Compressor |
| 3 | Air dryer |
| 4 | Air filtration System |
| 5 | Air Tank |
| 6 | Oxygen Tank |
| 7 | Oxygen purity analyzer |
| 8 | Oxygen Flowmeter |
| 9 | Warning Device |
| 10 | High efficiency bactericidal filter |
| 11 | Connecting Pipes and Valve Fittings |
| 12 | Molecular Sieve Desorption Device |
| 13 | Oxygen System Software |
| 14 | Operation and Maintenance System Software |
| 15 | Intelligent Monitoring System |
Design process of Techray Oxygen Generator for high temperature and high humidity region
Adopt special customized high temperature type air compressor, air dryer, and increase the air handling capacity of air dryer;
The intelligent cross-ventilation system to lower the room temperature
Temperature resistant electronic components to solve aging problem.


Process comparison of molecular sieve oxygen plant
★ Prevent powdering : The molecular sieve do not pulverize and prolong the service life to make sure the oxygen supply.
★ Accurate control: monitoring the oxygen production and concentration accurately.
★ High output and low consumption::the oxygen production improve 15% than traditional model. The consumption decreased 10% with more cost effective.
★ More convenient, faster maintenance:The molecular sieve adsorption towers upgraded into small volume modules to maintain easily.
★ Low noise: Meeting the international standard GB3096-1993.
★No need certification of pressure vessel: time saving and safer.


Innovative technology - Remote monitoring system

Full intelligent central control system, wireless remote monitoring system: multiple monitoring methods, no matter where you are, just a mobile phone can easily manage the devices.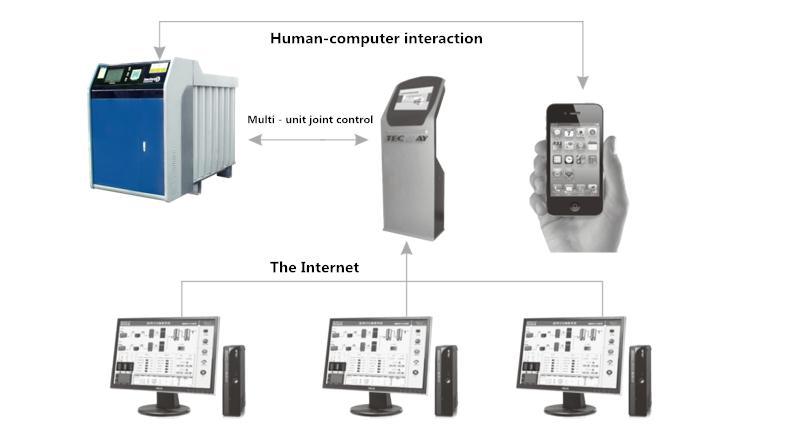 Wired and wireless multiple choices/intelligent monitoring, remote maintenance, man-machine interaction, acousto-optic and over-the-horizon alarm/whole-course network connection/data storage, report printing/online fault analysis, for quick solution.

COMPANY PROFILE:
Techray Medical Technology Co., Ltd is an innovative company which integrates the research, design, production, sales, installation and after-sales into intelligent system based on green medical environment purification.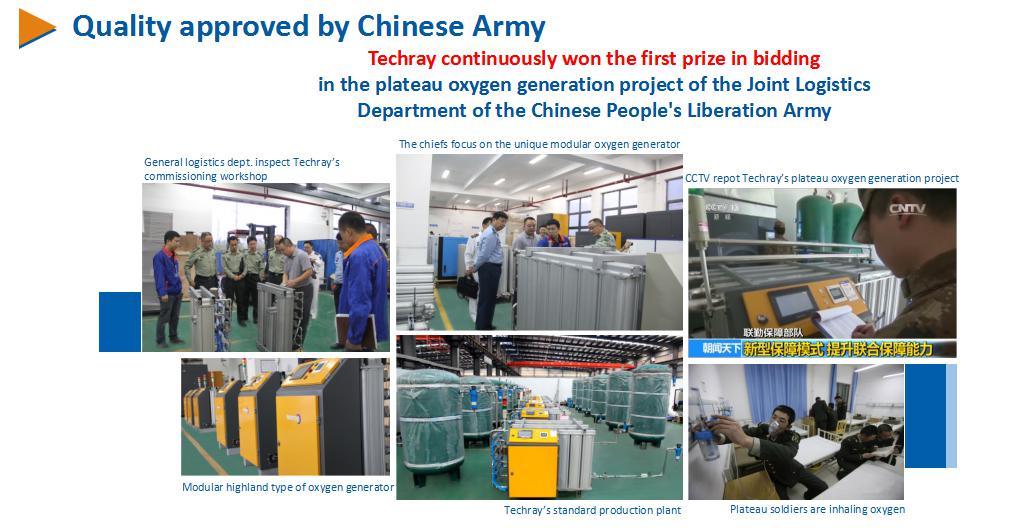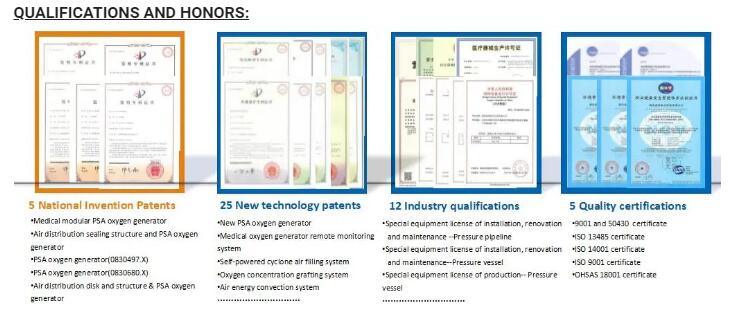 SERVICE
Full service for design, produce, installation and commissioning as to the customers's requirements.

Providing professional training for engineers who take care of the plant room.

Dispatching our technical staff to your country for technical services till the finished products as to the customers's requirements.

Providing long-term after-sales service.